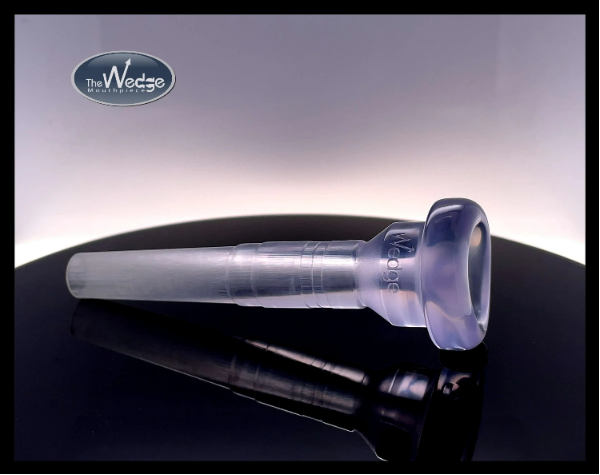 ---
Have you known about the Wedge for years, but never tried one? Lots of our customers tell us that's the case when they finally order. People just aren't sure that the Wedge is really any different from other mouthpieces, so they hesitate.
In case you have not previously heard about Wedge mouthpieces before, we make a full line of silver plated brass mouthpieces for all instruments, all incorporating the unique patented Wedge design. As an example, you can see our complete line of trumpet mouthpieces on our Trumpet Moutpiece Comparison page.
Whether or not you have heard of us before, we do understand your hesitency. So, we decided that we would give folks a chance to try a Wedge, just to see how it works for them, by giving away some or our new 3D printed polymer mouthpieces for free.
Why would we do that? It's simple.
We believe that you will be surprised by what the Wedge can do for your playing. We think that you'll be so impressed that you'll want to try our silver plated brass or Hybrid mouthpiece in your size, so that you can get the full benefit of the Wedge design. By doing this you get a free mouthpiece and we get a new customer. We think that's a Win-Win!
So, for a limited time, we will be giving away 5 of our new 3D printed Chuck Findley MV trumpet mouthpieces every day. The Chuck Findley MV is similar to a Bach 3C, GR 66MX, Monette B4 & B4S, Schilke 14B, Warburton 4MD, Yamaha 14B4, and Bobby Shew Jazz, so it's a very versatile mouthpiece, and a great way to see how well the Wedge works for you.
This mouthpiece is the product of many months of research and development. It is printed with an FDA certified safe biomedical photopolymer on a medical grade 3D printer. It does not slot or sound quite like our silver plated brass or Hybrid mouthpieces (it sounds a bit darker), but plays great and will give you a clear idea of what the Wedge design can do for your comfort, range and endurance. You will be amazed that a polymer mouthpiece can play this well and sound this good. This is NOT just another plastic mouthpiece.
Every morning at 9 am Pacific time we will be making available five 3D printed Wedge Chuck Findley MV mouthpieces in the online store. We will add 5 mouthpieces every day at that same time while quantities last. You can order the mouthpiece and pay only $15 for shipping. The mouthpiece is yours to keep and play, or to give away if it doesn't suit you.
If you like the polymer mouthpiece you can do a review of it in the online store and get a coupon code for a 10% discount on a silver plated brass or Hybrid mouthpiece.
This offer is open only to new Wedge customers and is limited to one mouthpiece.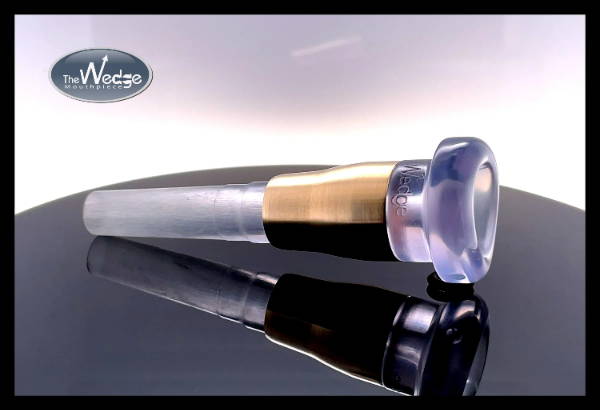 Mouthpiece with optional Sound Booster
---
---